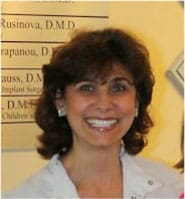 Dr. Marina Rusinova, an owner of Dedham Dental Associates, has been practicing here and abroad for 30 years.  As a native of St. Petersburg, Russia, Dr. Rusinova received her degree from the St. Petersburg Dental School in 1978. While in Russia, she practiced for 14 years prior to immigrating to the United States in 1992.
Due to her love of the profession, Dr. Rusinova chose to continue her career and education by graduating from the Boston University Goldman School of Dentistry, Advanced Standing Program in 1996.  As a valued provider at Dedham Medical Associates, Dr. Rusinova had been practicing General Dentistry in the multi-specialty division since 2007.
With artistic skill and precise handwork, your dental care will be expertly crafted to your specific needs.  Dr. Rusinova understands that each patient is an individual, thus the treatment you receive is as unique as you are.   She is committed to her patients and takes great pride in delivering quality care from routine annual examinations, to larger cosmetic procedures such as Crowns, Bridges and Veneers.
When away from the practice, Dr. Rusinova enjoys vacationing with her husband, and continuing her education by attending lectures and practical courses that further promote her dental expertise. Her love of artistry transcends into personal interests, with a vast appreciation for all facets of painting and sculpture.
Dr. Rusinova invites you to experience the transformation that awaits you as she reveals the health and beauty of your smile.
Everyone Deserves
A Healthy Smile