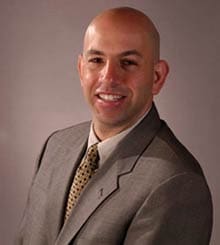 Dr. Leonard Strauss is our periodontist at Dedham Dental Associates. Dr. Strauss graduated from Franklin and Marshall College, Tufts University School of Dental Medicine, and completed his advanced specialty training in periodontics in the prestigious program at Boston University in 1994. Contemporary periodontal therapy involves a myriad of options to maintain the health of the hard and soft tissues that support your teeth. Well versed in all routine periodontal therapies,
Dr. Strauss can also provide more advanced techniques such as immediate implant placement, sinus grafts, ridge augmentation and soft tissue grafting. Implants can be placed right here at DDA at any time for tooth replacement or to provide support for dental appliances. To that end, Dr. Strauss is certified in four implant systems for the perfect solution to your dental issues, should that need arise.
Dr. Strauss is a member of many dental societies including the American Academy  of Periodontology and the Academy of Osseointegration. In his spare time, he is an avid skier.
With over 20 years of experience in providing superb, compassionate periodontal treatment, we are thrilled to have Dr. Strauss as part of our dental team at DDA.
Everyone Deserves
A Healthy Smile