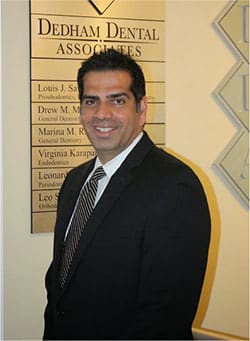 Prosthodontics, Restorative and Implant Dentistry
Dr. Louis J. Sawan is an owner and the Dental Director of Dedham Dental Associates. Dr. Sawan was born and raised in Dedham, graduated from Dedham High School in 1979, and is still deeply committed to the people and community of Dedham at all levels. After graduating from Northeastern University in 1984 with two Bachelor Degrees, he was accepted to Tufts University School of Dental Medicine. In 1988, Dr. Sawan continued his dental education and for two more years as a resident of the Tuft Specialty Residency in Prosthodontics.
Dr. Sawan is a specialist in crowns, bridges, veneers, dentures, partial dentures, implants, cosmetic and esthetic dentistry.
As a former Assistant Clinical Professor at Tufts University School of Dental Medicine, Dr. Sawan has lectured locally and internationally in the field of Prosthodontics. Dr. Sawan practiced in Dedham, at Dedham Medical Associates, for 18 years where he was very actively involved on many committees including serving as a board member on the Board of Directors. He is a member of the American Dental Association, Massachusetts Dental Society and the American College of Prosthodontists.
In 2012, Dr. Sawan and his partners formed Dedham Dental Associates. Dr. Sawan's strong passion for architecture and his keen eye for form, function and aesthtics can be seen throughout our state-of-the-art office, the construction of which Dr. Sawan was the prime overseer. Theses skills mesh perfectly with those of a refined, skilled and focused dentist.
Everyone Deserves
A Healthy Smile