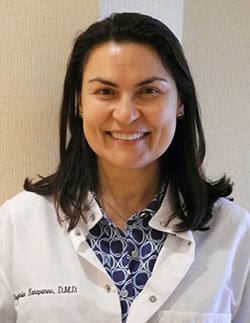 Dr. Virginia Karapanou, our endodontist ( or root canal specialist) is a diplomate of the American Board of Endodontists, and for twenty years, has been an Associate Professor of Endodontics, teaching undergraduate and postgraduate students at Tufts University School of Dental Medicine. As well as her dental degree, she has an Advanced Studies Certificate in Endodontics, and a Masters of Dental Research from Tufts University School of Dental Medicine. .Her focus for her Masters was in pulpal inflammatory mediators and diagnostic biomarkers. She has also been in private practice limited to Endodontics since 1994.
Dr.  Karapanou has published her research on Endodontic materials and clinical cases in many scientific journals, including as in the Journal of Endodontics, and the Journal of the Massachusetts Dental Society. Dr.  Karapanou is on the Editorial Board of the "European Journal of Inflammation" and has lectured nationally and internationally on state of the art endodontic science and technique. She is an active member of the College of Diplomates of the American Board of Endodontics, the highest level an endodontist can achieve, the Massachusetts Dental Society, American Dental Association, and American Association of Endodontists.
Dr. Karapanou is particularly interested in preventing and treating tooth pain and boney infections by an assessment and evaluation of any painful oral condition. If necessary, root canal therapy done with a microscope, endodontic microsurgery, trauma management, and bleaching of root canaled teeth can be done right here at DDA. In her personal life, she is a passionate fan of international soccer and a lover of literature. She is also the busy mother of 3 teen and preteen children.
Root canal therapy can be an anxious time for some patients. We at DDA feel that Dr.'K's skills and extraordinary compassion will make any treatment done by her here as positive as it can possibly be.
Everyone Deserves
A Healthy Smile